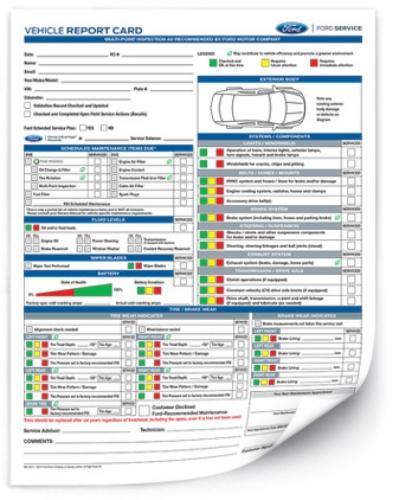 THE WORKS
YOUR VEHICLE NEEDS 6 DIFFERENT FLUIDS TO RUN
THERE'S MORE TO IT THAN OIL AND A FILTER
MOTOR OIL, COOLANT, POWER STEERING FLUID, BRAKE FLUID, TRANSMISSION FLUID, AND WINDSHIELD WASHER FLUID.
When you get The Works,as part of the up to 83-point inspection, our Ford-Trained professionals will check all of the vital fluids that keep your car running. And only our Technicians have a combined million hours in Ford training nationwide, so they have the expertise to see things other garages might not. You'll also get a comprehensive Vehicle Report Card where a Ford-Trained Advisor will take you through every checkmark in your one-on-one consultation.
Applies to single rear wheel vehicles only. Diesel models not eligible.
Up to 5 litres of oil. Disposal fees may be extra. Does not apply to diesel engines.
BRAKE PADS OR SHOES
BRAKE WEAR AND TEAR SIGNS CAN RANGE FROM A SLIGHT WHEEL SHUDDER TO A SQUISHY PEDAL
AND FORD TECHNICIANS ARE TRAINED TO KNOW THE MOMENT THEY NEED REPLACING
Ford Motorcraft® brake pads are made by Ford Engineers specifically to be the absolute perfect fit for your Ford's brake system, giving you like-new brake performance. Plus they reduce noise and dust. Our engineers also test our brake pads in-lab and on-road to ensure they meet or exceed federal motor vehicle safety standards.48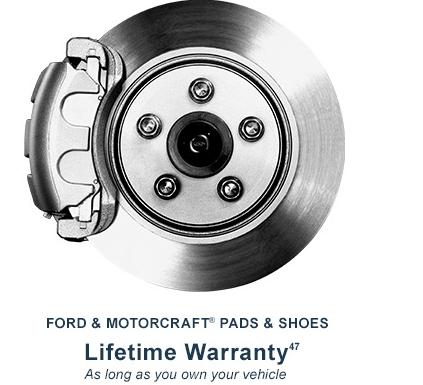 Ford Protection Plan ("FPP") is only available for purchasers of Ford or Motorcraft® replacement parts for non-commercial cars and light trucks. FPP provides coverage (part only, labour and towing excluded) beyond the expiry of the standard Parts & Accessory Warranty. If a FPP-eligible Ford or Motorcraft® part fails due to a defect in material or workmanship, wear out or rust through, it will be replaced at no charge as long as the original purchaser of the part owns the vehicle on which the part was installed. Coverage varies between over-the-counter and dealer-installed parts. See your local Ford Store for complete coverage details and limitations.
Genuine Ford and Motorcraft® replacement brake pads and shoes are tested to ensure braking performance meets or exceeds the requirements in Canada Motor Vehicle Safety Standards (CMVSS) 105-Hydraulic and Electric Brake System, and 135-Light Vehicle Brake Systems, as applicable.